Give us a call for more information
888-655-7263
Or request a quote below
Our professional Carnival services are available for birthdays, company picnics, festivals, fundraisers, house parties, all-night events, post grad parties, & more!
*Professional delivery & pick up included!
*New, high quality, midway carnival & frame games!
*Carnival Game packages fit any size or age group, so everyone can play!
*Additional staffing & volunteer training for your event is available upon request!
*Exclusive event planning consultation from an expert with over 50 years experience!
*We offer the lowest prices for Carnival Game Rental in the industry!
If you are looking for more activities check out our Inflatables, Live Animals and Casino Games!
Double Shot Basketball
Score big in a double shot basketball competition against your friends or co-workers! Mobile and easy to set up anywhere, this double rimmed basketball unit is a real crowd-pleaser! Take unlimited shots or at least until the built in buzzer tells you that time is up!
Nine Square
Similar to Four square, Nine Square is a game played among nine players on a rectangle court divided into equal squares. The objective of Nine Square is to eliminate other players. This is done by bouncing the ball back and forth between squares.
Quarterback Toss
Frame Game: Make great pass or surprise the crowd with a touchdown!
Bottles Up
Table Game: Challenge yourself to pull the bottle into an upright position using only a wand and your wits! Each bottle is a level of its own, — which can you master?
Fish Bowl Frenzy
Test your aim with Fish Bowl Frenzy! You have twelve chances to land a ping pong ball in the fish bowls. Bounce it, toss it, or hit it off the backboard. Which technique is your favorite?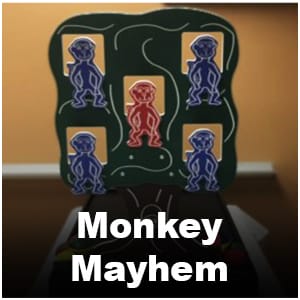 Monkey Mayhem
Table Game: How good is your throwing arm? Test your aim with one of our classic bean bag toss games! Monkey Mayhem comes with five bean bags!
Roller Bowler
Table Game: Roller Bowler is a seemingly simple game of rolling a ball up a hill. But don't be fooled! You must push the ball hard enough to pass the first hill, but softly enough so that it doesn't roll all the way back!
Bingo
Win prizes when you match your squares vertically, horizontally, or diagonally during this fun event!
Golf Challenge
Frame Game: Take a couple swings at the golf course with Velcro golf balls!
Roadkill
Frame Game: Make a toss to help keep the roads clean!
Buckets of Balls
Attempt tossing 6 balls into all 6 buckets! You'll get a different prize for each bucket you make!
King of the Hill
Table Game: Become the king of the hill in this game of skill and determination! Roll three balls up the hill to land in one of the five holes. But take note — it's not as easy as it looks!
Plinko
Classic meets contemporary in this well-known game! Drop one of the colored disks down from the top and watch it bounce through the pegs into a scored slot at the bottom. Is this a game of luck, or does it require strategy?
Snake Pit
Table Game: Snake Pit is one of our more challenging games! The object: Land the ball in one of the target holes without falling into the snake pit below. With your three tries, how many points can you score?
Barnstormers
Frame Game: A storm is coming! Toss balls into the barn windows to alert the animals to get out!
Hog Wild
Frame Game: This pig will eat just about anything you throw his way!
Strike 'Em Out
Frame Game: It's one, two, three strikes & you're out at the old ball game!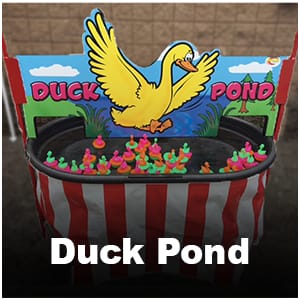 Dunk Pond
Pick a duck and look for the number on the bottom. Win the prize that corresponds to the number on the duck! This carnival game best suits children under age 6
Leaping Lizards
Table Game: The goal of the game is to land lizards on the log or surrounding leaves. Simply place a lizard on one end of the adjustable arm, aim, and hit the other end with the mallet to make the lizard "leap" onto the desired landing spot!
Richochet
Table Game: Roll the ball down the alley, richochet it off the bungee cords, and land it in one of the holes on the other side. How high can you score in just three tries?
Strike Zone
Table Game: Strike Zone is bowling with a twist! Simply slide the pucks down the alley to flip the pins! You have three chances to hit all seven!
Barnyard Buddies
Pose for face-in-the-hole photos with this portable frame!
Penguin Fish Fling
Frame Game: Fling fish of different sizes to this cute, hungry penguin!
Swashbuckler
Frame Game: Battle pirates on a ship by tossing small cannonballs!
Dunk Tank
Our Dunk Tank has been a leading money maker at fairs, carnivals, and block parties as well as a great rental item. The concept of dunking the boss or a local "celebrity" at fundraiser events has become an American pastime.
Mini Golf
Each participant putts 3 balls, and adds up their score. The person with the most points wins!
Ring Toss
Table Game: Kids of all ages will enjoy our classic Ring Toss game. The goal is simple: toss the rings to land around as many bottles as you can! Comes with 24 rings!
Tic Tac Toe
Your favorite classic game is back with a new twist! Our version not only requires thought, but accuracy too. Toss your red or blue colored ball to get three in a row and beat your opponent!
Chef Challenge
Frame Game: Flip some shrimp into these mouths with Chef Challenge!
Yard Games
We have many yard games to choose from;
Cornhole, Giant Inflatable Cornhole, Giant Jenga, Spike Ball, and more!
We would love to make your event one that will be remembered for years to come!