Give us a call for more information
888-655-7263
Or request a quote below
Sports Attractions (No Longer In Use)
These games will provide fun for all ages!
For more details and to have one at your event give us a call! 888-655-7263
Giant Velcro Dartboard
Your event will score big with our GIANT Velcro Dartboard! Kick & throw soccer/tennis balls at the target to rack up points!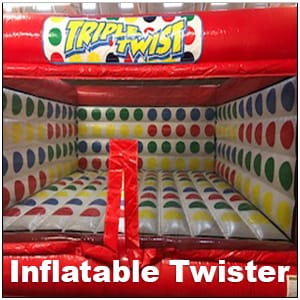 Inflatable Twister
This game is unlike any version of twister you've played before! Based on the popular game, our version challenges up to 10 players to touch different colored dots on the floor and walls using only their hands and feet! Get ready to bend, twist and stretch your way to victory!
Inflatable Dodge Ball
Dodge ball is a fast paced, action filled game that pits one team against another. Players on two teams throw the dodge balls at each other, while attempting to avoid being hit themselves- all in a 50' W x 30' L inflatable arena!
Sports Galore
Put your athletic skills to the test with our new interactive inflatable! Sports Galore includes three games in one unit!  
Games included:
•Bean Bag Target
•Frisbee Toss
•Football Toss

Human Foosball
The Human Foosball inflatable arena is 50' W x 30' L. In this hilarious sport, players hold onto covered ropes while trying to kick the ball into a net across the floor!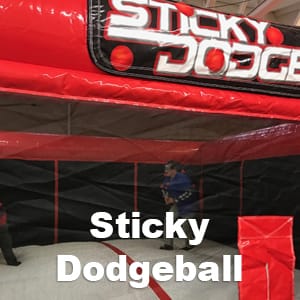 Sticky Dodgeball
Sticky Dodgeball was popularized by The Jimmy Fallon Show and we have an inflatable version! This arena is 18x18x9 and the inside is lined with velcro. Put on a velcro vest and try to dodge the small velcro balls your opponent is throwing at you!
Nine Square!
Similar to Four square, Nine Square is a game played among nine players on a rectangle court divided into equal squares. The objective of Nine Square is to eliminate other players. This is done by bouncing the ball back and forth between squares. 
Double Shot Basketball
Score big in a double shot basketball competition against your friends or co-workers! Mobile and easy to set up anywhere, this double rimmed basketball unit is a real crowd-pleaser! Take unlimited shots or at least until the built in buzzer tells you that time is up!
Super Kick Soccer!
An exciting competitive challenge between two players to see who can score the most goals!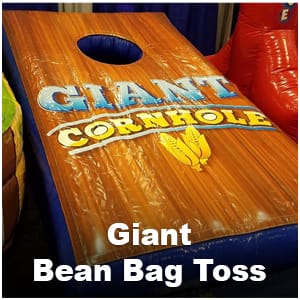 Giant Bean Bag Toss
Our Giant Bean Bag Toss will wow your guests at your party or team building event. This over-sized tailgate favorite measures 5 feet wide x 8 feet long with a whole size that is 15 inches. Extra large bean bags make this game challenging and fun for everyone!
We would love to make your event one that will be remembered for years to come!