Give us a call for more information
888-655-7263
Or request a quote below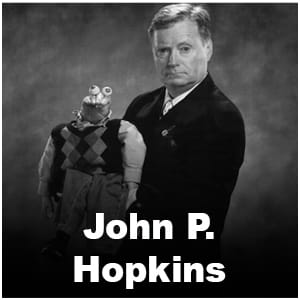 If you think you've seen it all, just wait until you witness the legendary light-hearted lunacy of John P Hopkins! He's a hilarious, off-the-wall entertainer who will take you on a whirl-wind journey filled with goofy gags, wacky stunts, way-out magic and crazy ventriloquism that will have you on the edge of your seat! This guy is CRAZY! A long time favorite with top corporations, his performance includes lots of audience participation, and thrilling "dangerous" effects, like snapping a straw from a volunteer's mouth with a bullwhip, sticking a knife in his arm, even turning his head completely around! John is also renowned for his ability as a "Close-up" performer, working miracles under your very nose! It's like getting a second show for free! To learn more click here! 

Click here for more information and pictures.
Ken Severa is a dynamic corporate comedian. Ken is able to work clean and remain hilariously funny. This makes for a perfect fit for corporate events or work parties!
Skip Griparis
Skip Griparis presents an extraordinary comedic and musical one-man show, which features satirical impressions of more than 45 stars of song, TV, and the silver screen.  This includes stars from the 50's to present.  A great musician in his own right, Skip was once a member of the group The New Colony Six, and also toured with Olivia Newton John for a number of years.  Skip weaves his great musical talent into his impressions show.
Tim Walkoe is a Grand Prize winner on ABC TV's "America's Funniest People". He has also headlined  more than 100 comedy clubs, colleges, and corporate events. Walkoe's fast paced comedy show, combined with improv and music parodies, is perfect for any corporate events. Tim Walkoe is the perfect choice for some clean comedy in a business environment. He has a fast-paced comedic style that he combines with improvisation and music to make a well-rounded belly laugh. Walkoe's comedic act is sure to be a hit within your organization.
Dwayne Gill
Dwayne Gill loves talking about his life and experiences.  As a native of Detroit and a 30-year veteran of both the Marines and as a State Trooper, Dwayne is able to share his unique point of view on life. Dwayne will inspire you!
We would love to make your event one that will be remembered for years to come!