Give us a call for more information
888-655-7263
Or request a quote below
A little bit of something for everyone!  Give us a call today to discuss how we can make your event a success!
Click the pictures below to learn more!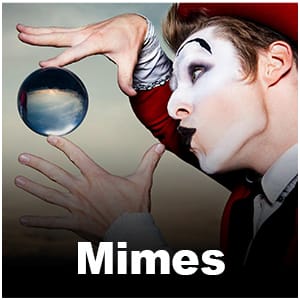 Mimes
Our mime artists act out a story through body motions, without any speaking. Their performance can be done as a show or as a strolling performer
Human Statues are street performers that cover their body and clothes with statue-like makeup, and then hold a pose like a statue or a mannequin for hours at a time. They fool the people that walk by them and some think that they are real statues. Different Human Statue characters are available. Human statues (also known as Buskers) started way back in Medieval times. They frequently performed at Renaissance fairs for Royalty. Pictures
Ventriloquists
Our ventriloquists have a full lineup of "dummies" that will entertain people of all ages! See what ventriloquist shows can do for your event!
Jugglers
Fun-filled shows with action packed comedy and filled with audience participation! Our jugglers will tackle everything from tennis balls, bowling pins, knives and even bowling balls!
We would love to make your event one that will be remembered for years to come!